Heater Burnout Alarm Detector
Heater Burnout Alarm Detector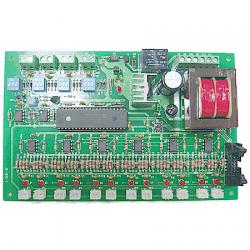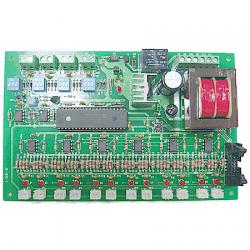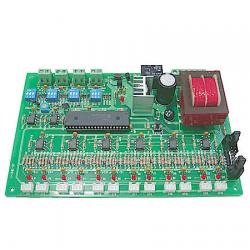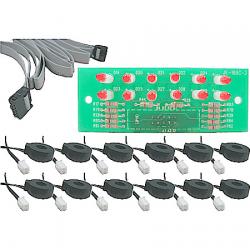 ---
Description
"Disconnection inspect and notification controller" provides equipment, all time they can check whether the load is disconnected, and equipment to maintain the best condition, if the equipment is abnormal situation, check the line a waste of money and time-consuming, reduce the production of the finished product yield, 12-segment load check and abnormal notification contacts to allow customers to install their own buzz or warning lights, immediately notify the operator when the load disconnected, saving check the lines time, 12 LED indicators light in accordance with the LED lights to replace the load. Applying: Three phase thyristor power regulator, Three phase solid state relay, Single phase thyristor power regulator, Single phase solid state relay.
Heater Burnout Alarm Detector - Hand Book
Specification
Auxiliary voltage: AC 220V±15% 50/60Hz
Work frequency: 50~60Hz ±5%
Models of choice: Inspect and notification of SCR power regulator, Inspect and notification SSR solid state relay (Order at the same time please inform the sales man)
Environment: -10°C~50°C Humidity Under 90% RH
Thermometer to receive the signal: 4-20mA, 0-5V, 1-5V
Feature
1. Boot a 12-segment LED inspection, when 12 LED bright over time through the Marquee, 12 LEDs are normal and standby.
2. 12-segment of the load disconnection inspect and notification, 12-segment can be free to choose and match, for example: 2-segment or 6-segment for load inspect, there is no use to the part and turn off the DIP switch will not start inspect. Provide multi-segment DIP switch to the startup and shutdown of the disconnection inspect and notification function, with more different environments.
3. External LED indicator light, can be connected by cable to an extension of 1 ~ 2m, synchronization control panel 12 LED indicators light function can be connected via cable to conspicuous place on the equipment, such as the surface of the control box, the operation panel of the equipment, so that operating personnel can instantly grasp the equipment status.
4. Inspect and notification SCR power regulator, Inspect and notification SSR solid state relay.
5. By converter(Current Tansformer) and the thermometer mutual recognition, to determine the load is disconnected.